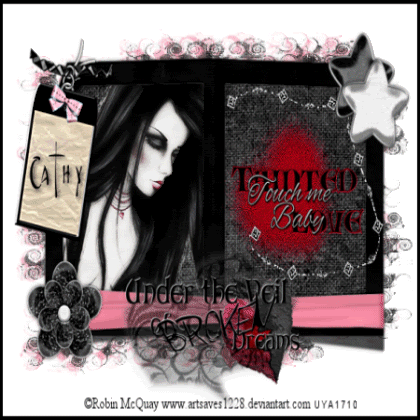 Supplies
Tube of choice - I am using the artwork of Robin McQuay which can be purchased from UpYourArt
Scrapkit - 'Pink struck' by Foxy which you can download from her blog here
Wordart by TizzysAngel which you will find here
Mask - WSL258 which you can get here
Thanks ladies for the beautiful freebies!
Font of choice
Plugins- Xenofex constellation
OK - Open a new image 650x 550 floodfill white
Open Frame 2 from the kit, copy & paste as a new layer, resize by 85%
With your selection tool set on rectangle, draw around the 2 inner frames, copy paper2 & paste as a new layer, selections, invert, delete and move below the frame layer
Paste your tube as a new layer inside one of the frames, erase any overhang or draw a selection around the frame and invert, back to your tube and hit delete.
Copy & paste flower3 as a new layer, resize and position at bottom of frame, open 2 of the stars, resize & position at top of frame
Open tag1 copy & paste as a new layer, resize & position on top left corner, use your raster deform tool to rotate it slightly, sharpen more - copy ribbon 1 and paste as a new layer, resize and position on the tag, erase a bit so it looks like it is going through the chain
copy & paste the diamond rope, resize and sharpen more
Now open the WordArt by Tizzy - it is all on different layers - position one inside the other frame and add another at bottom of tag
Add your name to the tag and add a drop shadow of 2 3 70 7
Hide your white background & merge visible
Now add a paper from the kit as a new layer and apply the mask - I applied the mask twice, once to a pink paper and then to the grey paper and merged down - use your deform tool to push the mask layer in a bit
Add your copyright information
Animation
Make sure you are on the mask layer
Click on effects, xenofex constellation
Click on settings and highlight small star constellation
The only thing you need to change is to click in the 'keep original image'
Click ok and copy merged - paste into ani shop as a new image
Back to PSP, edit, undo constellation then add constellation again but click on the random seed button, ok, copy merged, paste into ani shop after current frame
Repeat this step once more, view your animation, save as a gif!